Introduction
As of November 2014, the only birds I've photographed that fall into the Chickenlike category are the Wild Turkeys I encountered near the entrance to Forsythe. They were grazing beside the road under the trees on a day when there was very bright sunshine.
First Encounter
I was on my way out of the Edwin B. Forsythe National Wildlife Refuge on August 26, 2014, having just completed a circuit of the Wildlife Drive. I looked left at the stop sign and was astonished to see the flock of birds foraging there. I drove back into the refuge, parked the car and hurried back to try to get photos of the birds. The resulting images are not very good. I was frustrated by having too long a lens on the camera for such a close encounter with large birds and by the intense shadows: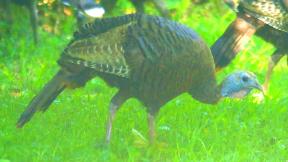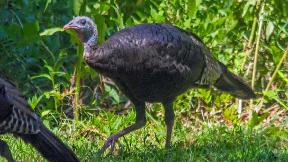 Subsequent Sightings
On October 5, 2014, again on my way out of the refuge, I saw the birds again. This time, they were beyond the bridge over the ponds on Great Creek Road. They were crossing the road in front of me heading into grassy area in front of the sign announcing the refuge. By the time I'd stopped the car and retrieved the camera from the trunk, they were long gone.
On September 5, 2015, once more on my way out of the refuge, although this time still inside it, I again encountered the flock of wild turkeys. This time, they were on the Songbird Trail. Again, they were in the shade on a bright day so again the photo is not very pleasing.